Technology News [September 16, 2022]
Adobe Announces Acquisition of Online Design Startup Figma for Approximately $20 Billion
On September 15, Adobe announced that it has signed a definitive agreement to acquire Figma, a startup developing "online design collaboration tools," for approximately $20 billion in cash and stock.
Figma is a startup that develops "online design collaboration tools.
Figma primarily develops browser-based tools that allow software designers to work together in real time. Its products allow collaborators to bypass the clunky collaboration process and save and send their work through a series of different applications.
Figma, which is known to be led by co-founder Dylan Field, saw a surge in demand for its products during the epidemic with the rise of telecommuting. figma
customers include Airbnb, Google, Netflix and Twitte, and its backers include venture capital firms Kleiner Perkins, Index and
Greylock.
Under the agreement, about half of the approximately $20 billion acquisition will be in cash and half in stock. In addition, approximately 6 million additional restricted stock units (RSUs) will be awarded to Figma
s chief executive officer (CEO) and employees.
Adobe expects that the transaction will close in 2023. Following the transaction, Figma co-founder and CEO Dylan Field continues to lead the Figma
team, reporting to David Wadhwani, president of Adobe's digital media business. Until the deal is completed, the two companies will continue to operate independently. (Source: Pinterest)
Disney+ may be merged with Hulu in the future
Disney CEO Bob Chapek said on Wednesday, September 15, that he is interested in merging Hulu into Disney+.
Chapek reportedly said the merger would have to wait until Disney bought the remaining shares of Hulu from Comcast. According to previous announcements from both parties in 2019, Comcast could buy Hulu for at least $27.5 billion in 2024.
Hulu
Hulu is a streaming platform with popular movies and TV shows such as "The Handmaid's Tale," "The Prestige" and "American Horror Story. (Source: deadline)
Tesla May Consider Shifting Some of China's Downtown Mall Showrooms to Suburban Stores
Sept. 15
Tesla is considering adjusting its China retail strategy by shutting down some of its shopping center showrooms in cities like Beijing and placing more emphasis on suburban stores that are less expensive and can offer repair services, Reuters reported on Sept. 15, citing two people familiar with the matter. Tesla did not immediately respond to a request for comment.
One of the people said Tesla is looking to ramp up its efforts to hire technicians and other service personnel in China. Tesla's China job site shows more than 300 service positions open as of Sept. 15.
Tesla opened its first store in downtown Beijing in 2013 and now has more than 200 stores nationwide. (Source: cnbeta)
Musk Accuses Twitter of Hiding Data Security Breach, Calls it Clear Fraud
The newly released court documents show that Musk accused Twitter of fraud and that the company deliberately covered up serious vulnerabilities in Twitter's data security. Musk originally planned a $44
Musk originally planned to buy Twitter for $44 billion, but now he wants to end the deal. Also, in 2011, Twitter signed an agreement with the FTC regarding user data, but Twitter did not comply with the agreement.
Musk also stressed that Twitter was in clear violation of the agreement as a result of fraud, as revealed by former Twitter security chief Peiter "Mudge" Zatko.
Musk is asking a Delaware judge to rule that he is not obligated to complete the deal, while Twitter wants the judge to force Musk to complete the acquisition at $54.20 per share, with both sides participating in a five-day trial starting Oct. 17.
days of trial. (Source: Sina Technology)
Ethereum officially merges, bidding farewell to the 'mining era
At 14:42 on September 15, 2022, the 8-year old Etherpad officially completed its merger (The Merge). With hundreds of thousands of people around the world participating in the verification and more than 7,000 nodes around the world collaborating together, the Merge has been completed.
With the participation of hundreds of thousands of people around the world and the collaboration of more than 7,000 nodes worldwide, this distributed system with millions of users has completed an important upgrade, bidding farewell to the era of "mining" (PoW) and entering the era of "pledge" 2.0.
In addition, the shift of Ether from PoW to PoS consensus has been controversial. At the beginning of blockchain development, mainstream coins such as bitcoin, ethereum and litecoin were based on PoW
consensus algorithm, which was considered to be the core mechanism of decentralization. In addition to the "belief" in "decentralization", interests are also driving the development of events. The "PoW" adherents have found a place in the ethereum fork chain, and the "mining" major Bitmain has publicly supported the old ethereum fork chain
ETC. (Source: Blue Whale Finance)
Glory MagicBook V 14 2022 released: support spaced gesture operation, the first from 5999 yuan
On September 15, Honor officially released MagicBook V 14 2022 notebook, equipped with 12th generation Core H series processors, with optional MX 550 single display, the first price
The MagicBook V 14 2022 will be priced from $5,999 and will be available for purchase on September 22.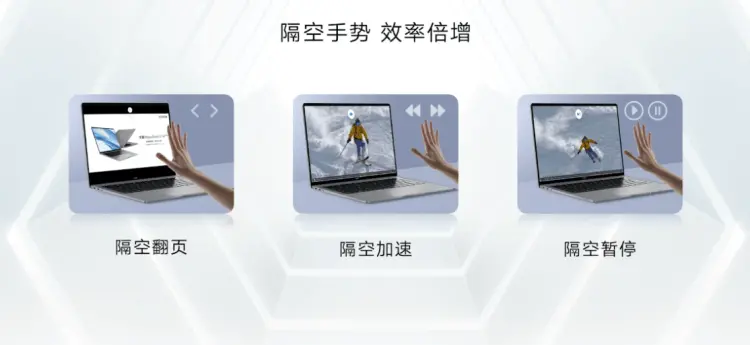 In terms of screen parameters, the MagicBook V 14 2022 features a 14.2-inch 3:2 screen with 2520*1680 high resolution, 90Hz refresh rate, 10bit
color depth, 100¥ sRGB color gamut, and 10-point touch support.
In terms of configuration, the notebook is powered by 12th generation Core H series processors, available as i5-12500H and i7-12700H processors, with 16GB of LPDDR5 memory as standard and
The interface includes Thunderbolt 4.
In terms of software, the MagicBook V 14 2022 supports OS Turbo, which officially reduces power consumption by up to 26.7%.
In addition, the MagicBook V 14 2022 supports cloning, glory sharing, multi-screen collaboration and other features. (Source: IT House)
The first mass-produced model equipped with DJI car: 2023 KiWi EV listed, priced at 8.78 - 10.28 million
On September 15, SAIC-GM-Wuling Baojun launched the 2023 KiWi EV, with three models, namely Ji Chao Edition, Ji Luxury Edition and DJI Edition, priced at RMB 87,800, RMB 93,800 and RMB 102,800 respectively.
The prices are RMB 87,800, RMB 93,800 and RMB 102,800 respectively.
According to the introduction, as the world's first mass production model equipped with DJI vehicle, the 2023 KiWi EV can not only realize multi-state parking space recognition, 360° dead-end parking, 30-second efficient parking, and inside-out parking.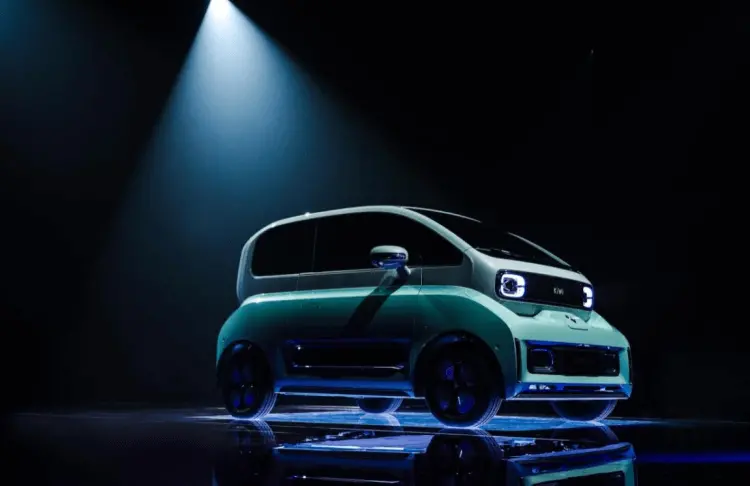 The 2023 KiWi EV can not only realize intelligent parking functions such as multi-state parking space recognition, 360° no-dead-angle parking, 30 seconds efficient parking, in- and out-of-car parking at will, but also intelligent driving assistance functions such as active recommendation on fast roads, lever change, intelligent speed regulation on curves, and response to traffic congestion in close proximity.
At the launch event, the new functions of "Rhino Intelligent Driving System" were also unveiled, which is expected to be upgraded by the end of this year through OTA to realize new functions such as intelligent recognition of traffic lights and start/stop, memory parking, cross-level memory parking and exploration parking.
The new 2023 KiWi EV is available in Mocha, Twilight and Matcha colors, and the new interior features a large area of high-end suede material and a new integrated "waterfall" duplex screen. In terms of power, the 2023
The maximum power of KiWi EV is 40kW, and the maximum power of DJI version is 50kW, the maximum torque is 150Nm, and the NEDC range is 305km, 301km for DJI version.
(Source: AutoZone)
Nike develops new robot that can clean and repair worn-out sneakers
Nike is testing a robot at its flagship retail store in London that is designed to clean and repair old sneakers, Techspot reports. It's called B.I.L.L., which stands for Bot
It is called B.I.L.L., which stands for Bot Initiated Longevity Lab. The system uses advanced robotics, water-based cleaning products and recycled polyester patches to refurbish worn-out sneakers.
Once the shoe is loaded into the machine, it creates a 3D model to identify areas on the upper, sidewalls and outsole that need cleaning. Customers can also select patches to cover worn areas on the upper.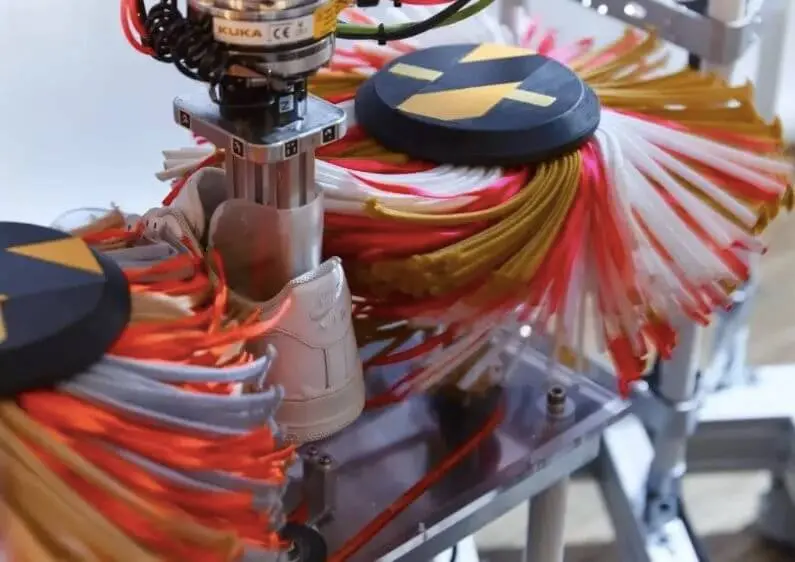 Once complete, Nike store employees will add new insoles and laces made from recycled materials to complete the refurbishment. The robot takes about 45 minutes to process a pair of Air Force 1s, Nike said.
Currently, the robot can only handle the Air Force 1, Air Jordan 1, Space Hippie 01 and Nike Dunk.
Noah Murphy-Reinhertz, head of sustainability at Nike NXT
Noah Murphy-Reinhertz, head of sustainability at Nike NXT, said that maintaining old products is deeply personal and that people go to great lengths to care for their favorite shoes.
added: "Repairing products is a way to prolong our memories of them." (Source: Fast Technology)
Apple accounts for 70% share of domestic high-end machines
According to fast technology news, according to the latest statistics from IDC, China's high-end cell phone market share above $600 reached 13.3% in the first half of 2022, compared to last year to continue to achieve growth, and the source of the thrust of this growth on the iPhone. from IDC's compilation of China's cell phone market trends above $600 chart can be seen, from 2021Q2, Apple's iOS share has been rising, and peaked from 2021Q4, directly dominating more than 70% of the market. (Financial network technology)
Azure cell phone is exposed to be released next year: take the high-end route
A few days ago, a blogger broke the news that Azure cell phone will be released next year. The founder of Azure, Li Bin, has also revealed that the project of Azure cell phone is advancing. It is understood that Azure's first cell phone is positioned high-end and will be equipped with Qualcomm Snapdragon chips. Azure chose Qualcomm for two reasons: one, Qualcomm is recognized by the industry in the high-end market; two, Qualcomm chips are used in Azure cars, and it will be more convenient to test and tune Azure cell phones by choosing Qualcomm. In addition, the Azera cell phone business team has been formed, with the former senior vice president of Meitu Mobile, Wei Yi, as the head of the software department, and the Azera cell phone team has already exceeded 300 people.
The Azera mobile team has more than 300 employees, including OPPO, Meitu and Huawei. (Fast Tech)
Independent Investigation Results: Blue Orca Capital's Shorting Report Allegations Have No Basis in Fact
36 Krypton has learned that Daiso has announced the results of an independent investigation into the shorting report of shorting agency Blue Orca
The independent investigation results of the shorting report of Blue Orca Capital were announced. According to the findings, the independent investigation committee concluded that the allegations in the shorting report were not based on facts. Previously, the company had announced on July 28 that based on its initial review and assessment of the short-selling report, the company reported its preliminary findings to the independent committee established by the board of directors to refute the key allegations in the report, which, in the company's view, were unfounded and contained misleading conclusions and interpretations. The independent investigation has now been substantially completed and the findings are consistent with the preliminary findings contained in the July 28th announcement.
Adding 60% to Tencent's position, global asset management giant Fidelity International is increasing its position in the Internet across the board
According to the latest data from Morningstar, Fidelity International's China equity funds updated their positions as of the end of August. Fidelity International's China Consumer Power Fund has increased its positions in most of its long positions, and the China Focus Fund has also increased its positions significantly in many of its long positions. As of the end of August, the top 10 longest positions in Fidelity International's China Consumer Power Fund were in Tencent Holdings, Alibaba, Guizhou Maotai, Meituan, AIA, Mengniu, Galaxy Entertainment, Ping An of China H shares, Jingdong, and Shenzhou International. Another China equity fund under Fidelity International has increased its position in Internet stocks even more, with Tencent Holdings receiving a position increase of over 60%. (Securities Times)
Domestic bivalent HPV vaccine release accelerated: Guangdong launches free HPV vaccination for school-age girls
Significant progress has been made in the early and pilot implementation of free HPV vaccination in domestic places. This month, Guangdong started free HPV vaccination for eligible school-age girls. Recently, Zhaoqing, Shaoguan, Yangjiang, Yunfu and other places officially carry out the first dose of vaccination. It is understood that free vaccination with domestic bivalent HPV vaccine is currently offered, and two doses are required for the entire process, with the second dose needing to be administered at least five months after the first dose. Eligible girls who cannot be vaccinated as scheduled due to special circumstances can be accompanied by their guardians to the corresponding vaccination clinics at school before November 30, 2022 (the first dose cannot be more than 14 years old and the second dose cannot be 15 years old). (21 Finance)
More than 60% of specialist graduates earn less than 5,000 yuan per month
63.4% of the surveyed specialist graduates actually earn less than 5,000 yuan per month. The number of surveyed graduates with a monthly salary of more than 10,000 is very few, less than five percent. This year is the graduation year of the first higher vocational expansion students, since 2019, the higher vocational (specialist) institutions have expanded by 4.133 million in three years, in the environment of the epidemic on the adverse impact of employment, effectively serve the goal of "six stable" "six protection". The research results show that, compared with undergraduates from key universities, the expected salary of specialist students is lower, and more than 60% of specialist students' actual monthly salary is below 5,000 yuan. More than 30% of the surveyed specialist graduates' priority after graduation is to "continue their further studies and go to college", and specialist employment still faces structural mismatch and less competitive opportunities. (First Financial Daily)
iPhone 14 Pro rest screen display supports map navigation
Apple's iPhone 14 series has been unblocked from media reviews, and some outlets have provided more information about the iPhone 14 Pro series' all-weather display feature. According to blogger Brian
Tong's review, in addition to the lock screen, the 24/7 display is also available for Apple Maps, Phone and Voice Memo apps. In the Maps app, the map is hidden, showing only directions, time of arrival and distance remaining. But according to the blogger's real-world test of iPhone
14 Pro rest screen display consumes 1% more power per hour.
And according to the surging news, iPhone 14 main panel supplier Samsung has been notified by Apple to add about 20 million pieces of iPhone 14
Pro series panel orders. The report points out that this is due to Apple's iPhone 14 Pro series models sales boom, Apple urgent additional orders 20 million units, equivalent to an increase of more than 22%. (IT House)
Half of young people's cell phone use cycle more than 2 years, "do not want to change" or "can not afford to change"?
The newly released iPhone 14 series phones are getting hot, but according to a report released by analyst Ming-Chi Kuo, the pre-order results for iPhone 14 and 14 Plus are worse than those for iPhone SE 3 and iPhone 13 mini.
However, according to analyst Ming-Chi Kuo's report, the pre-order results for the iPhone 14 and 14 Plus are worse than those for the iPhone SE 3 and iPhone 13 mini.
In order to understand the frequency of cell phone replacement among the younger generation of consumers, Backwave Small Data launched a survey on 36 Krypton Weibo, with 975 young people participating in the poll. Among them, more than half said that the use cycle of cell phones in more than 2 years; nearly 40% of young people think that the phone to "can not be used" before they will consider changing the machine.
Obviously, young people are more concerned about the practical value of cell phones than the pursuit of the so-called technology trends. In the face of the rising pricing of new iPhones year after year, the attitude of young people towards cell phone consumption is becoming more and more rational.